Resources
Our guides can help you understand the importance how the right will and the right estate plan in place is easy with us, and will afford true peace of mind in knowing that what you've worked so hard to build up is protected, in the right hands over the generations ahead and that your legacy is in place.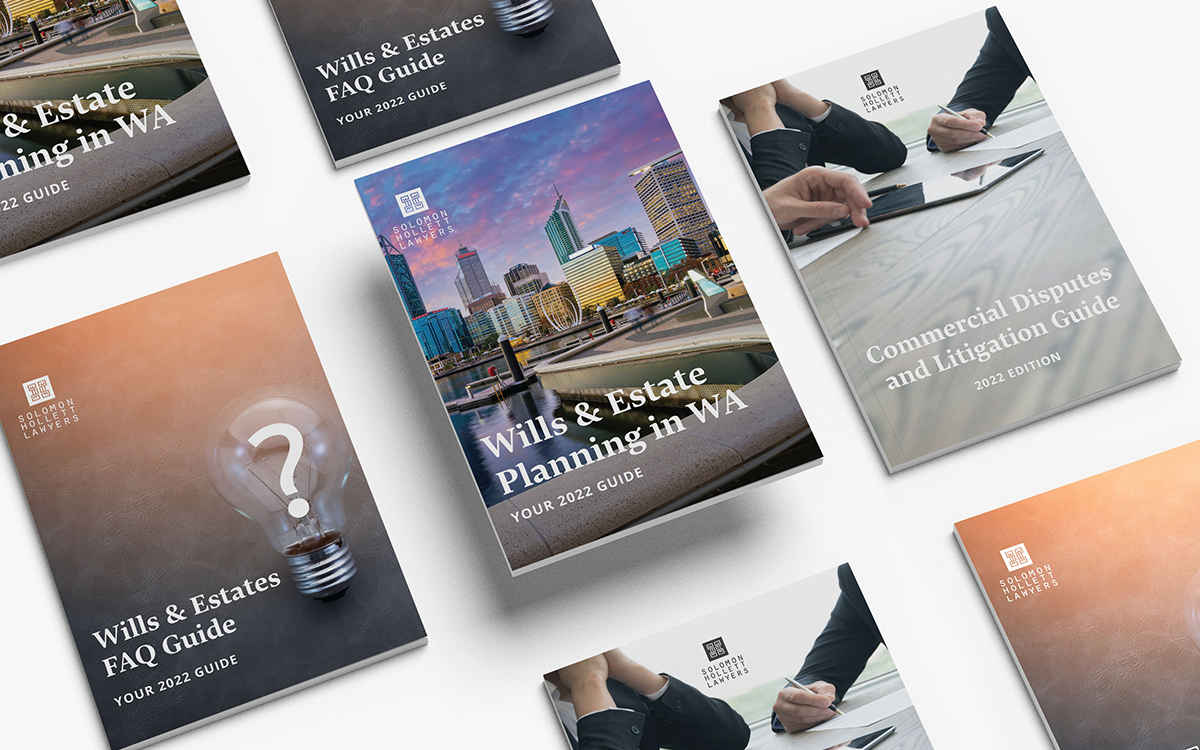 The 2022 Wills & Estate Planning Guide for WA
This guide is the latest in our series and outlines key information when it comes to both Wills and estate planning in Western Australia, and also wills and estate litigation. Given the changes we've seen in the WA wills and estates landscape over the past few years, this new guide outlines some of the key changes and trends and how they may impact you.
Please note that the information that you provide to us on this website will be collected by Solomon Hollett Lawyers. The purposes for which the information is collected are described in the collection form. We may not be able to assist you with your request if you do not provide your information, and in order to deal with your request we may need to disclose your information to our associates, contractors and service providers, who may be overseas. We may also use your information to offer or provide you with products or services or ask for your feedback. Our Privacy Policy is available to read on our site and contains information about how you can access your personal information and request corrections or complain if you are for any reason not satisfied with how we have managed your personal information. If you'd like any further information regarding the information we collect, please email us at info@solomonhollettlawyers.com.au.
The Inside Running on Wills and Estates
In this comprehensive guide you'll find all you need to know when it comes to what estate planning is, what a Will is and what it should cover, why you need a Will, Testamentary Trusts and how they can help you, Power of Attorney and the traps to be aware of, what other estate planning documents you may wish to consider and the perils of cheap or homemade Wills.
Please note that the information that you provide to us on this website will be collected by Solomon Hollett Lawyers. The purposes for which the information is collected are described in the collection form. We may not be able to assist you with your request if you do not provide your information, and in order to deal with your request we may need to disclose your information to our associates, contractors and service providers, who may be overseas. We may also use your information to offer or provide you with products or services or ask for your feedback. Our Privacy Policy is available to read on our site and contains information about how you can access your personal information and request corrections or complain if you are for any reason not satisfied with how we have managed your personal information. If you'd like any further information regarding the information we collect, please email us at info@solomonhollettlawyers.com.au.
The Wills and Estates FAQ Guide 2022
In this second comprehensive guide that accompanies the first guide, you'll find all you need to know when it comes what happens if you die without a Will in WA, how marriage, divorce or defacto relationships impact a Will, what you need to know when it comes to Super and your Will, how to choose the right beneficiaries and executors and what to consider, who can contest your Will, how best to protect it from future challenges or litigation, and the biggest estate planning mistakes to avoid.
Please note that the information that you provide to us on this website will be collected by Solomon Hollett Lawyers. The purposes for which the information is collected are described in the collection form. We may not be able to assist you with your request if you do not provide your information, and in order to deal with your request we may need to disclose your information to our associates, contractors and service providers, who may be overseas. We may also use your information to offer or provide you with products or services or ask for your feedback. Our Privacy Policy is available to read on our site and contains information about how you can access your personal information and request corrections or complain if you are for any reason not satisfied with how we have managed your personal information. If you'd like any further information regarding the information we collect, please email us at info@solomonhollettlawyers.com.au.
Commercial Disputes and Litigation Guide
Are you a business owner or business decision maker in Western Australia? If so, this is a must read. We've put together a brand new guide to answer some of the questions around how best to protect yourself against a commercial dispute and what to do if you're facing one. The guide also covers a number of strategies and ways commercial disputes can be resolved, and if litigation is the only course of action when these are exhausted then what the process looks like and what to expect.
Please note that the information that you provide to us on this website will be collected by Solomon Hollett Lawyers. The purposes for which the information is collected are described in the collection form. We may not be able to assist you with your request if you do not provide your information, and in order to deal with your request we may need to disclose your information to our associates, contractors and service providers, who may be overseas. We may also use your information to offer or provide you with products or services or ask for your feedback. Our Privacy Policy is available to read on our site and contains information about how you can access your personal information and request corrections or complain if you are for any reason not satisfied with how we have managed your personal information. If you'd like any further information regarding the information we collect, please email us at info@solomonhollettlawyers.com.au.