Careers at Solomon Hollett Lawyers
The Solomon Hollett team is a tight-knit group of experienced and legal professionals dedicated to helping clients with high quality legal advice and solutions to help them get ahead. We pride ourselves on our outstanding group of lawyers, a team focused on getting clients the right advice and solutions they need to move forward.
Specialising in succession and estates law, commercial law, commercial litigation and estate litigation, our lawyers are experienced, well-informed and commercially savvy.
Importantly, they are all great people with strong community interests and a focus on the betterment of the environments we operate in.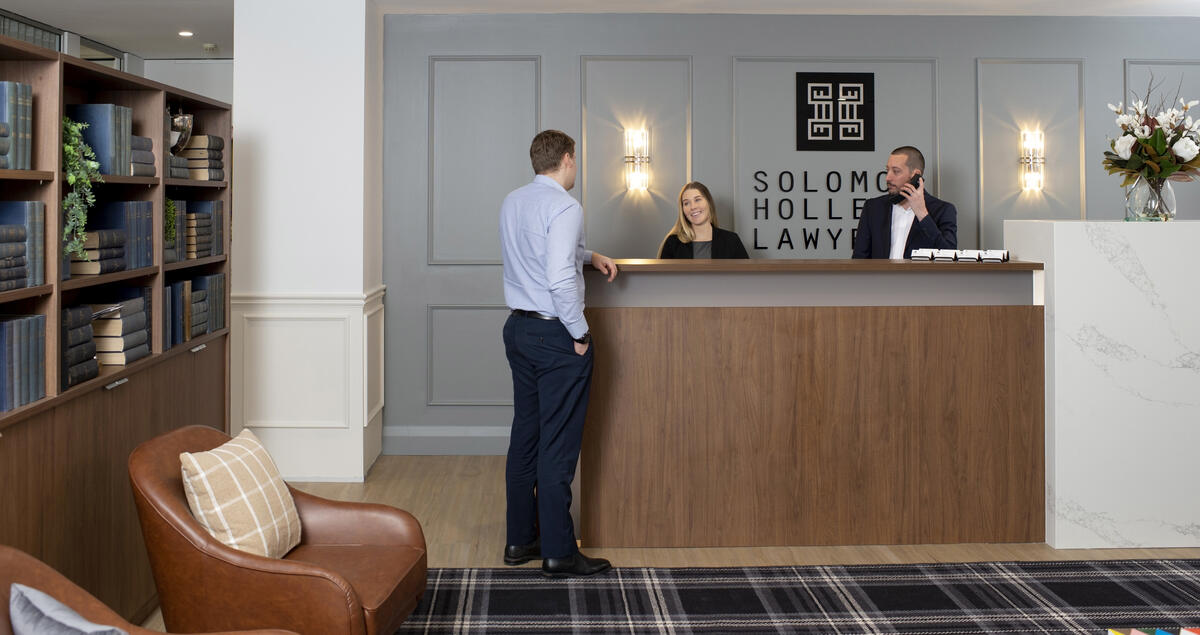 We are based in West Perth, with flexible work practices to suit each of our team members. We are flat in structure with open door access to each of our Directors, allowing great career opportunities and career progression.
Our team members are competitively remunerated and each and every one of us live and breathe diversity and inclusion.
Specific roles will be posted on this page as they come up. At the same time we're always keen to create opportunities to match great skillsets and experience when presented to us.
For a confidential conversation please reach out directly to Morgan Solomon on morgan@solomonhollettlawyers.com.au or Craig Hollett on craig@solomonhollettlawyers.com.au or by phoning (08) 6244 0985.
Our commonalities look a little something like this:
We see the practice of law as a calling and not just a job. The work we do is important and can often make life-changing differences for the people and businesses we represent. We thrive on our obligation to right societal wrongs.
We recognise the responsibility we have to the community to give back. Whether it is volunteering our time to help those in need, or by giving time and our legal thinking to those not in a position to access it, it makes the world a better place.
We are a collaborative and collegiate team – our clients and our team members all benefit in having more than one legal brain considering an issue.
We are dedicated not only to the development of the firm as a whole, but to the personal and professional development of each of our team members. As we grow, our team members grow too.
We are not in this business to push pointless claims or agendas. Our approach is pragmatic and commercial, with an emphasis on being courteous and respectful when dealing with other parties and the wider legal profession.
Our firm's expertise and professionalism is respected by the industry, other colleagues and clients. Yes, we win awards and although we're really proud of them, it's the praise and thanks we receive from our clients and peers that means the most.
Our values
We are transparent about your aims and we're transparent about what we do. We keep our focus on solutions to ensure the best possible outcome for our clients. Our goal is to make your life better, your business better, your family and those close to you better. Ultimately, we are focused on making society better.

Transparency
What you see is what you get. We're open and we're honest and there are no surprises along the way.
Efficiency
We work fast and we work smart. You get high quality advice that represents real value.

Flexibility
No two clients and no two matters are the same, our approach is tailored to each client and we flex accordingly.

Communication
We speak human and we speak solutions. You don't find too much jargon in what we say, we're empathetic and we keep you informed.
We are growing and are on the look out for lawyers with experience in and a passion for succession law, wills and estates,
commercial law
, estate litigation and commercial litigation. We're also on the hunt for great support staff with professional services experience. If you're starting to explore your next career move and would like to hear more about what's on offer at Solomon Hollett, please reach out – we look forward to hearing from you. For a confidential conversation please reach out directly to Morgan Solomon on
morgan@solomonhollettlawyers.com.au
or Craig Hollett on
craig@solomonhollettlawyers.com.au
or by phoning
(08) 6244 0985
.